A Real Winner
I crouch low at the starting line;
I'm going to try to win this time.
I leap out at the signal gun;
My muscles coil and stretch to run.
It feels as though my lungs will burst,
I try so hard to come in first.
I come in last, but I don't mind.
I really win--because I try!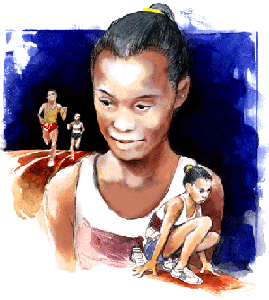 ---
Verse ©1980, 1998 by Debbi Miller Gutierrez
Originally printed in Primary Treasure, August 10-16,1980
Illustration ©1998 by Gary D. Sutherland